Setting up the cottage industry by drug-free Mambra is on the agenda
Dr. Abu Altmash Faizi
A large number of Muslims are settled in Maharashtra's Mambara Kulwa constituency, not one of them, but many basic public issues. In this regard, Aam Aadmi Party candidate Dr Abultamish Faizi says that there is no work done on the Human Development Index. Informs the facility. "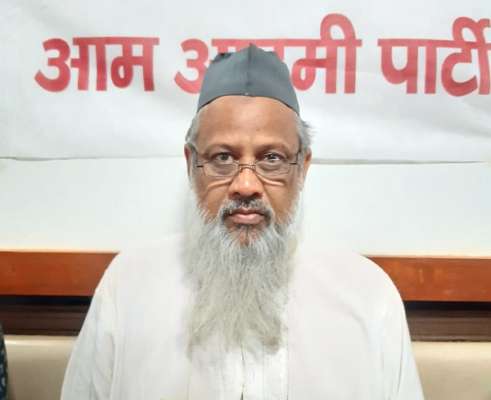 Mumbra: (Representative Special) Dr. Avalatmash Faizi is contesting from the Aam Aadmi Party this time from the leading Assembly constituency of Mumbra Kulwa district. He is directly contested by Rashtrawadi Congress party MLA Jitendra Oh. Dr. Faizi completed his PhD from the International Institute for Population Sciences (IIPS), jointly sponsored by the United Nations and Indian Government. Dr. Faizi has been associated with the United Nations Government of India and several international NGOs. He served as an expert statistician. In all the camps for the NRC in Mambra, Dr. Faizi was present as a Resource Person. They want to solve Mumbra's public problems on a priority basis after they succeed. Here are excerpts from Dr. Faizi's discussions on political activities and state elections being served to readers.
This is your first election, under what goals did you decide to contest?
The Human Development Index has not worked in this Assembly constituency for the past three years. There is no increase in the income of the people here. There has been no improvement in the quality of education. The diseases have not decreased. The youth here are unemployed, there is no way out to solve the problem of unemployment for the poor in Kwa Mombra. There are no public colleges in Mombra. There is no major health center. Urban health is not a point. The state of affairs of government hospitals cannot be assessed here. I am not primarily a politician, Kamir had no intention of contesting elections, but given the situation here, I had to land in this field. Seeing that people are living in a trap and living in such a way that they have no idea of ​​their basic rights. They are suffering from all kinds of words and tribulations, but they are neglecting their dream. The MLA is doing a lot. So it is important to break that trait.
Which issues in this assembly constituency do you think deserve immediate attention?
The young people here are unemployed and removing their unemployment will be my top priority. There is a need for a government college in Mombra to educate girls. There are many girls who are intelligent but do not complete their education due to poverty. Is becoming
Aam Aadmi Party has no solid base in Mumbra, what have you planned for your success?
Of course, at the time I filled the page, it could be said that I have no foundation, but the circumstances have changed the way that the name of the Aam Aadmi Party has gone up in every language. When a candidate wins, he has his own funds. The government funds that are the main tasks are not the supervision of the MLA but the responsibility of the corporation. It is the base of the common man. It is the foundation of our life and now it has become such an environment. So, the base is ready now. As per the promise that we have made, the sketch is also underway and election preparations are underway. The setting doesn't even get the MLA.
Has the Aam Aadmi Party sent a leader from Delhi for your election campaign?
Yes, of course! Leaders like Raghu Chadha, Sanjay Singh, and Amanatullah Khan are coming to Mombra, but MLA Amanatullah Khan, chairman of Delhi Waqf Board, has been staying here for several days. He is attending meetings, meetings and rallies with me. These leaders have been given the responsibility of Maharashtra Election in charge of the party.
You are a statistician, you have contact with educated youths, what do you think will benefit them especially for employment?
As I said before, employment is a big problem here. Even educated young people are useless
As I have said before, employment is a big problem here. Even educated youth are unemployed. Through the cottage industry, we will try to provide employment from home to house. Due to lack of jobs in the area, people are forced to travel on local trains in the wee hours of the morning. Done. We want to address these issues.
What agenda do you have for Mumbra development?
Kosha will try to improve the economic situation of Mombra. He will try to control drug addicts with public help with mass improvement. Developing the cottage industry is one of our most important agendas that will solve the problem of unemployment. It is also our priority to address the problem of dropout from 4th to 5th grade. There is a dire need for libraries here. Members will set up one billion health points in Harvard of Akila Assembly constituency. They will impose false electricity bills. People will not have to pay the bill till the system is validated. Our party president and Delhi Chief Minister Arvind Kejriwal can provide electricity to the masses at Delhi at a low cost. Why not the Maharashtra government? We will do all the development work here. The Delhi government is paying Rs. 3,000 to Imam and Rs. Free to travel uatyn hy.mytru kylyybs is also being considered to free travel for women.
According to the Maharashtra government, the privatization of electricity in Mombra is to compensate for the loss from here. Is this argument really correct?
All this is a lie when there is corruption, the loss will be the loss. Even after giving 2 units of electricity for free in Delhi, there is no loss. The cost per unit rate after power generation is close to 5 paise but government per unit. Is receiving higher prices.
The MIM Party is supporting you, are any of your members in the rally joining the MIM leaders?
The MIM is supporting me not from the Aam Aadmi Party but from this constituency. We have made a strategy and are working in consensus and thank God they are fully supporting and supporting us in this. There is a blessing from some people who tried to buy a candidate for MIM which resulted in people getting angry that the condition of the people had increased so much that they could buy anybody. The workers are also supporting us which has made it very easy for us.